It is high time that animal testing finally END!
The National Institute of Health (NIH) and other government agencies have acknowledged that animal tests are not only unethical but also a waste of money because THEY DO NOT WORK!
Yet they continue these wasteful and horrific experiments and try to hide them from the public.
Animals have different biological systems than humans and the results cannot be extrapolated properly.
There is a long history of drugs that have proven safe on animals being released into the market only to end up harming and / or killing people.
We are now at a point in the United States where we can grow organs on chips, simulate skin and so much more.
IT'S TIME TO END THIS ARCHAIC FORM OF SO-CALLED SCIENCE
When doctors, biologists and scientists are saying it is time to end this, we must do it
Help Beagle Freedom Project find the Federal Legislation needed to end animal testing and sign the Petition to show your support that you do not support animal testing!
THE NIAID, A DIVISION OF THE NATIONAL INSTITUTE OF HEALTH (NIH) LED BY DR. FAUCI KILLS BEAGLES (AND OTHER ANIMALS!)
Sadly, Beagles are the breed of choice in the animal testing industry because, as they say, they are "docile, forgiving, and don't fight back." For the very reason so many people love them, they are exploited in the testing industry. At Beagle Freedom Project, we were told those exact words from a worker in a laboratory when we rescued over 20 beagles from that laboratory.
The NIAID, a division of the National Institute of Health (NIH) led by Dr. Fauci is defrauding the public with its false statements and has been doing so for years. For decades, the NIH has funded painful and unnecessary experiments on animals.
Supposedly, the NIH has been working on the "Three Rs" - "Replacing, Reducing and Refining" animals in research. Instead, they have increased funding for animal testing by the millions in the U.S. and in other countries. Many of the experiments inflicted upon the animals funded by the NIH include pain and distress, which are requirements for the study.
Animal testing is archaic, unethical, and should be outlawed. A former employee of the NIH had stated that one cannot extrapolate results from animals to humans and that funding animal testing is unethical and a waste of money. Yet the funding, the testing, and torture continues.
In 2019, the Environmental Protection Agency (EPA) released a statement that it intends to spend the next 14 years reducing the number of animals used in testing and end animal research in 2035.
Beagle Freedom Project has rescued animals from basement laboratories and hidden research facilities, listened to the silent screams of devocalized beagles, and experienced the emotional PTSD of a dog afraid to make eye contact and give in to kind human touch.
Lawmakers are taking notice. The FDA Modernization Act, a bi-partisan bill introduced this month, will end an outdated FDA mandate that experimental drugs must be tested on animals before they are used on humans in clinical trials. While the bill would not ban animal testing outright it would allow the option for drug sponsors to use alternative methods when suitable.
For over 11 years, Beagle Freedom Project, a non-partisan, animal advocacy and rescue non-profit 501(c)(3), has been working to end animal testing and saving animals from testing. At any given time, there are at least 70,000 dogs being tested on in laboratories in the United States for everything from pharmaceuticals to medical supplies, cosmetic products, and more.
BFP has rescued over 2,000 dogs (mostly beagles) from animal testing laboratories across the globe since its inception in 2010. The sweet innocence of these survivors has shown the world the face of animal testing and have helped BFP bring this issue outside of the cold laboratory walls.
TAKE ACTION!
You have the power for change! Now is the time to speak up for the beagles who have no voice. Call and email Dr. Fauci and hold the NIH accountable: 301-496-2263 and anthony.fauci@nih.gov
Animal testing is faulty science. So why is Dr. Fauci and the NIH continuing to fund research that uses animals in testing when they can easily end it? Why are they torturing animals for their sick curiosities? Demand an END to this madness!
BFP's president & founder, Shannon Keith was interviewed by KNX Radio. (Fast Forward to 37:23)
Beagle Freedom Project and Commissioner Anabelle Lima-Taub in Hallandale Beach, Florida have teamed up to urge the NIH and Dr. Fauci to Stop Torturing Beagles. Anabelle Lima-Taub is sponsoring a resolution in support of Shannon Keith and the Beagle Freedom Project calling on Dr. Anthony Fauci and the National Institutes of Health (NIH) to end animal testing. The resolution passed the commission unanimously!
Here are just a few examples of beagles Beagle Freedom Project has liberated from animal testing laboratories over the years. These beagles have visible injuries, scars, open wounds and even stitches still. Those are just the VISIBLE wounds. Upon further examination, there was so much more going on, and, beyond the physical trauma, the emotional trauma is far worse. These sweet survivors have gone through unspeakable forms of psychological abuse. When we free them, most are so scared of freedom, they will not even exit their crates…..
It's time to end this!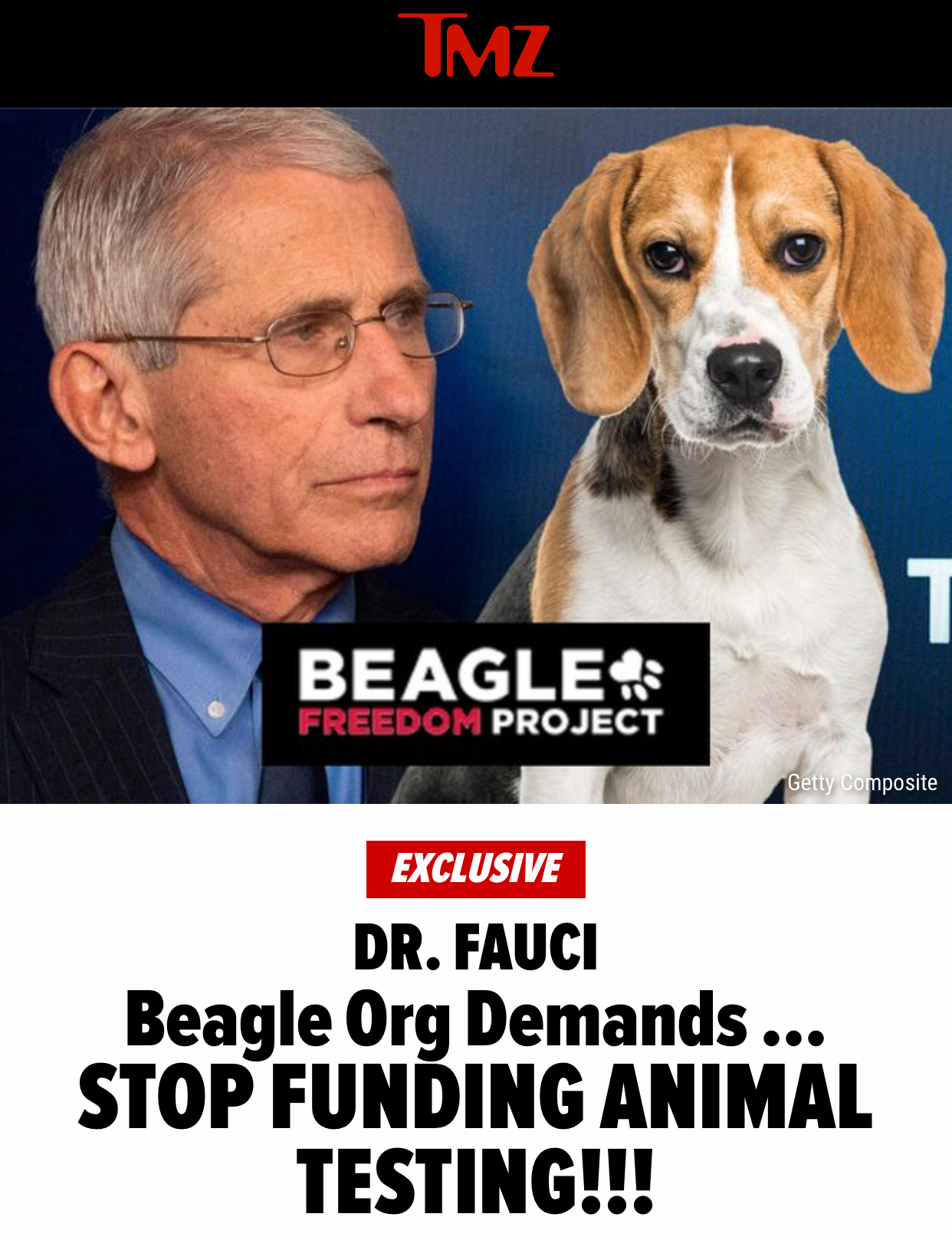 OTHER WAYS YOU CAN HELP END THE TORTURE:
Volunteer: We need you! All over the U.S. and abroad we need transporters, educators, and more. Email: Volunteer@BFP.ORG
Foster or Adopt: We rescue animals from laboratory testing all the time, however, in most cases, these rescues are confidential and we cannot announce them. Knowing we have reliable fosters and adopters is critical to our work. Those who care for our rescues are making an immense impact and are these animals' first steps into loving arms and freedom. Apply for our next rescue in your area at BFP.ORG/Rescue.
Shop Cruelty-Free: Download our free Cruelty-Cutter app to help make more ethical purchases and help advocate for more companies to stop testing on animals.
Sign up on our e-newsletter at BFP.ORG
Follow our social media channels and share our posts.
From our educational programs, combined with our non-stop rescues and other programs, we work tirelessly every single day to end this archaic and non-essential practice and we hope you will join us.