El Segundo's most beloved rescue dog has become a celebrity in his own right, and a bright spot in an otherwise challenging year.
With its proximity to Los Angeles and reputation as a choice filming location, it's no surprise that El Segundo provides an occasional celebrity sighting. Celebrities, however, can also be home grown, walk on four feet, and enjoy a loving scratch behind the ears—as is the case with El Segundo's newest and perhaps most charming celebrity, Journey.
Journey, for those readers not following his emotional growth and continued adventures on Facebook, is a rescue beagle adopted and cared for by Eileen Bell (pictured) and her husband, Webb, longtime residents of El Segundo. Over the past couple of months, Journey has won scores of new friends and much adoration here in town, both on his Facebook page ("Our journey with Journey," @ourjourneywithjourney) and in person on his frequent walks with Eileen. His sweet disposition, traumatic history as a laboratory test subject, and perseverance as he learns to navigate life as a "normal" dog combine to make him irresistible and a source of inspiration for all.
A Painful Back Story
Eileen and Webb, who first adopted a senior beagle, Blossom, this past August and not long ago lost a beloved pet beagle of many years, Sneezer, welcomed Journey into their home on September 29 of this year. The couple had been in touch with and were supporters of the Beagle Freedom Project (BFP), an animal rescue and advocacy organization that rescues and re-homes animals used in experimental research, and they originally took in five-year-laboratory-subject Journey, rescued by BFP, as foster parents. "Journey was bred for testing and sold to a Southern California testing lab at four to six months of age," Eileen explains of Journey's traumatic origins. She learned from BFP that an astonishing 60,000 beagles per year are bred and sold to labs as subjects for testing products ranging from cosmetics to pesticides to pharmaceuticals. "The beagle breed is specifically chosen for testing," Eileen explains, "precisely for their gentle, forgiving nature. They don't fight the human testers." She adds that their size and weight are considered "ideal" for testing, too. Unfortunately, beagles bred for testing undergo confinement and pain in the lab, and are generally treated as commodities. "Beagles bred for testing are typically used as subjects for one to two years," Eileen says. "Journey remained a test subject for five full years."
Rehabilitating Journey
Once Journey joined Eileen and Webb's household, the couple could see right away numerous symptoms of trauma and the behaviors he'd developed as a result of being institutionalized. For starters, Eileen explains, Journey struggled with simply being indoors. "I had to sleep outside with him for the first couple of days," she says, "and then we took turns sleeping with him in the living room for two weeks after that." He had also been recently neutered and needed time to heal physically, in addition to psychologically. Journey also was accustomed to simply falling asleep sitting up, as opposed to being offered a comfortable bed and a safe, personal spot to snooze. Eileen and Webb work patiently, gently, and with love to gradually encourage Journey to trust his surroundings and to live life like a happy pet dog. "Another issue Journey had at first was a distrust of doors that were slightly ajar," Eileen says. She suspects they reminded him of the testing rooms of his laboratory life. Journey also lacked experience with stairs, baths, a collar and harness, and drinking from a bowl. Walks were a typical dog activity with which Journey lacked familiarity as well. "Our progress with walks went like this," begins Eileen. "First, we'd just open the yard gate and sit with Journey. Then, we'd start with a walk of about ten feet. We eventually worked our way up to three-quarters of a mile," Eileen continues with a joyous smile, "and now Journey loves his daily walks! He makes new friends every day." Eileen shares a story of three little girls she and Journey met on a recent walk around town. The children had in their possession a stuffed plush beagle toy, and it caught Journey's attention right away. "Journey sniffed it, licked it, and barked at it," Eileen says. "He was really trying to engage with it. The girls saw that and gifted the toy to Journey right then and there," she continues. "We named it 'Generosity,' and Journey really treated Generosity as if it were a living puppy." Eileen says she was deeply moved by the kindness of those children and their willingness to give their toy away so readily.
The Journey Continues
Each day with Journey brings new triumphs and life lessons, Eileen says. "He and Blossom bring us so much joy and purpose. We feel like we would do anything for them." Eileen adds that she feels her empathy has grown as a result of adopting Journey. (She and Webb decided pretty quickly that they'd keep him for the remainder of his life.) "I put myself in his 'shoes,' so to speak," she explains, "and I try to really feel what he is feeling." As for Journey and sister Blossom, "They do get along," Eileen reports. "And Blossom teaches Journey things, like the joy of licking almond butter from a spoon. Journey watched Blossom do this recently and then caught on." Readers interested in following Journey's journey are encouraged to visit and "like" @ourjourneywithjourney on Facebook and to stop and say hello to Journey and Eileen during their frequent walks around town. "This experience with Journey has been so miraculous and so special," Eileen says, "I want to share it."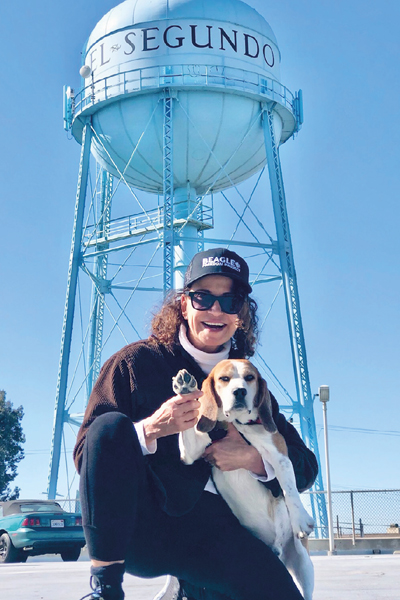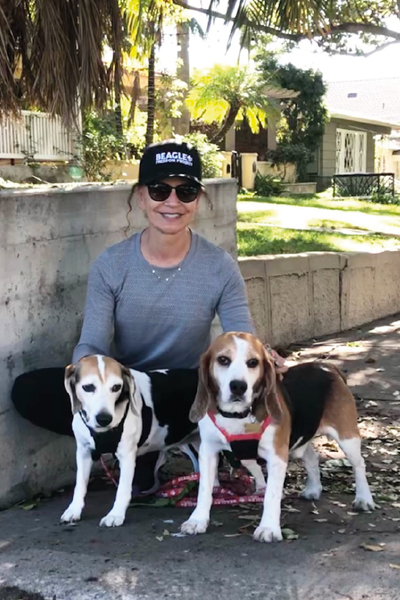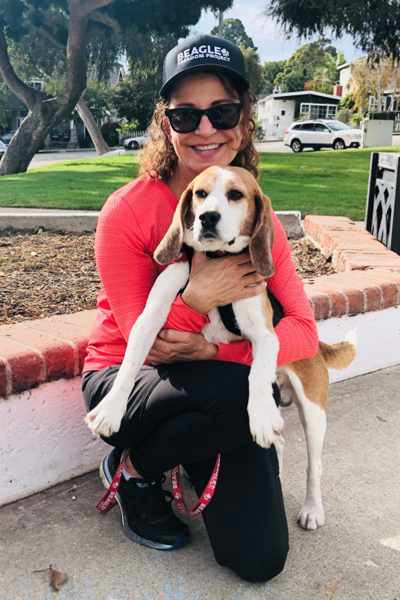 The Beagle Freedom Project at a Glance
Eileen and Webb are supporters of the Beagle Freedom Project (BFP), which rescues and re-homes beagles and other animals kept as test subjects for laboratories. Founded by Shannon Keith in 2010, the non-profit frees dogs and other species from laboratory experiments, senior and special needs animals from shelters, and animal victims of abuse from around the world. In addition to rescuing, rehoming, and rehabilitation, BFP is involved in pursuing legislation to benefit animals who are used for experimentation and testing, as well as educating the public about animal testing and abuse. Its programs include Save Our Seniors, Shelter Safeguard, and Cut the Cruelty. BFP relies on volunteers and donations to achieve its goals.
Original Article: The El Segundo Scene