Name: Larry
Breed: Beagle
Gender: Male
Age: 7 Years Old
Location: Los Angeles, CA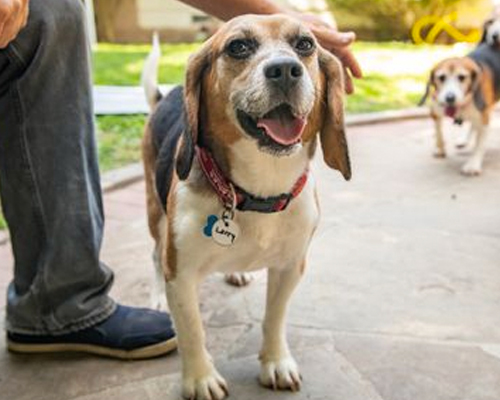 Larry: Homebody Seeking Kindred Spirit
My name is Larry and I'm looking forward to the next chapter of my life… with you?
I'm looking for somebody who "gets" me.
I spent the first 7 years of my life in an animal testing laboratory and I'm just starting to learn what it means to be free.
I have so many firsts in my future, will you share them with me?
I'm a nose down, tail up beagle sniffing my way through my days.
I'll follow you, and not just to the kitchen, and I don't mind a little PDA.
Late night treats and binge-watching TV, backyard sunbathing, and neighborhood walks are my jam.
Sure, I'm a confident fella and I may act independent, but sometimes the darn ball roll under the sofa: that's where you come in!
I know my special someone is out there and I can hardly wait to get started on my new life.