Name: Shelby
Breed: Beagle
Gender: Female
Age: 9 Years Old
Location: Los Angeles Area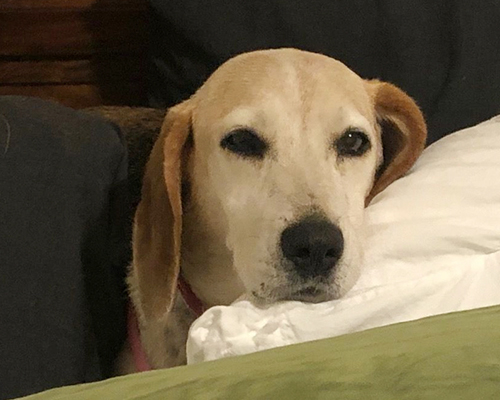 Hi! You can call me Shelby!
I definitely haven't lived a normal life. I lived in a cage for 9 years and was used for animal testing. All I was used to was a cold metal cage and the fear of the unknown. When you think of a "dog's life," you think about running and playing, having an abundance of toys, and having a family that loves you. That was the dream that always seemed so far out of reach. Until one day… my life changed forever!
That dream that seemed so far out of reach is now my reality! Instead of a metal cage, I sleep wherever I want: in my own dog bed, the couch, or even cuddled up right next to my person! My two favorite things are being able to run and play with my fur-siblings and going on long walks and hikes! And of course, meal time is the best time! In true beagle fashion, I get excited, and my dance moves start to come out—they're pretty good too if I do say so myself! If you're ready for the best cuddle buddy and being the first to see my new dances, please fill out an application!